Sondra Hollis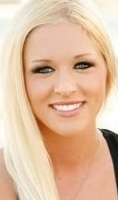 BRE # 01909959
Sondra Hollis is a licensed real estate agent with Ready Properties.
Mrs. Hollis holds a Bachelor of Science degree from CSULB in Business Administration with an emphasis in management.
She has over four years of experience in the real estate industry both as an on-site property manager in the commercial sector and as an agent in the residential sector.
She was born and raised in Santa Monica, Ca and currently resides in Gardena, Ca as a first-time homeowner, giving her the insight and consideration of the real estate process from both a buyer's and agent's perspective.
She is very familiar with the South Bay market from years of experience as both a local resident and real estate agent and has successfully helped hundreds of companies, from start-ups to Fortune 500's.
She epitomizes integrity, hard work and offers exceptional service in every detail of your real estate transaction.
She is ready to help you make your dream into a reality and believes in the following philosophy:
"Let's begin today. Don't worry about yesterday or tomorrow, for what is not started today can never be finished. Take one step at a time, but take your first step. There are seven days in a week, don't make someday one of them."
I'm ready to help you, are you?